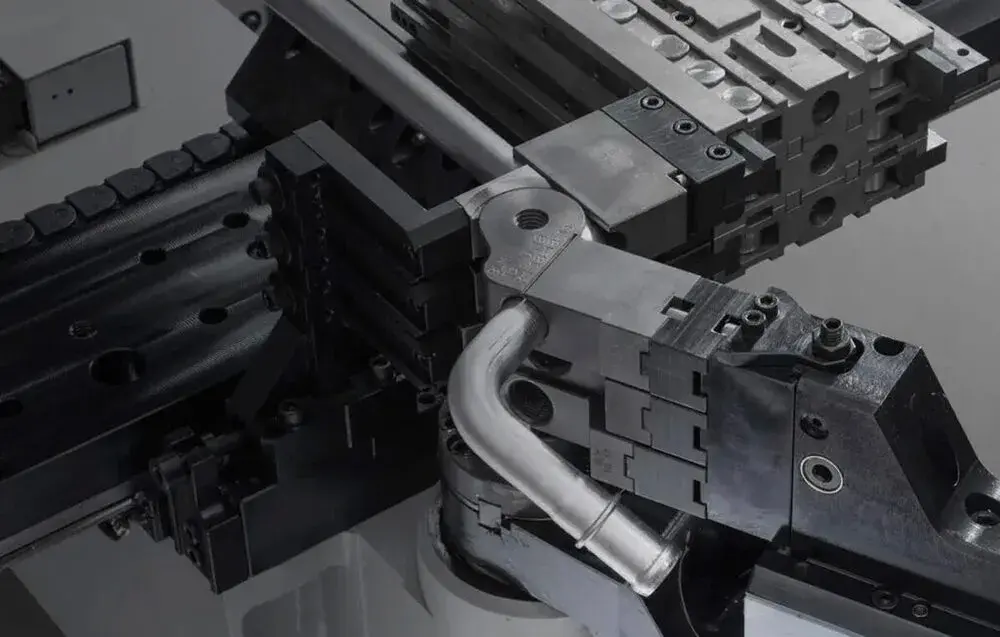 Tube bending is a cold forming process, which  allows  curvatures to be achieved in the material. Bent tubes are widely used in the automotive sector.
With this process, we can manufacture complex shapes with different tubes of ductile or deformable material. Generally, round material is used for tube bending, but depending on the specifics of the product, rectangular, square, extruded or solid tubes can also be handled.
In-house bending machines
Thanks to our knowledge of the technology and the new needs required by the market, we develop our own bending machines, easily integrated in robotic cells, as well as in transfers. We started with hydraulic bending machines, but we have managed to develop electric bending machines.
In both cases,  the "push bending" feature allows minimising the bending radius in comparison with conventional bending machines.
In Atik Automotive we are experts in tube bending processes, using the most advanced machinery. It  is carried out prior to machining and can be carried out both hot and cold.
For tube bending we have bending machines of different capacities and technologies.
Pipe materials: steel, stainless steel, aluminium, copper…
Raw material tube in bars or coil
Tube diameter (max./min.): 80 / 10 mm.
Tube thickness (max./min.): 3,0 / 0,8 mm.
No. of heights: 1 to 6
Would you like more information?