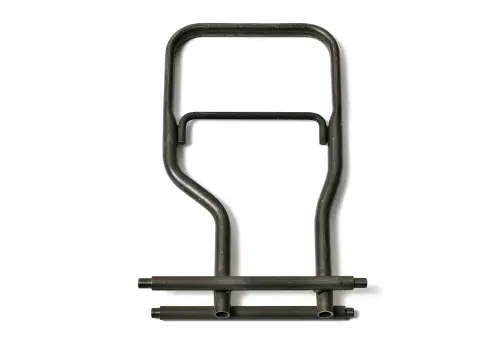 Vehicle seats are in constant technical evolution, striving for the highest standards of safety, ergonomics and driving comfort. The skeleton of the seat is a welded structure that moulds and supports the human body.
We manufacture components and sub-assemblies for different parts of this vehicle module by supplying stamping parts, rods and tubes
Strong and safe structures
By shaping and treating tubes, we do not only aim for the highest quality in our applications. We are also searching how to simplify designs and reduce weights.
The diameters of the tubes and rods vary from 10 to 30 mm and the thicknesses we work with range from 1 to 3 mm. 
In terms of material qualities, the most commonly used are E195+CR1, E220+CR2, E 235 + N, E235 + CR1, E275 + CR1, E355+N, E420 + A, E420 + CR2. The execution of the different components and sub-assemblies is carried out by punching, cutting and laser operations. 
The need for strong and safe structures in vehicles to enhance safety is combined with the objective of reducing their weight to reduce its carbon footprint. The solution lies in the use of high-strength or two-phase steels with very reduced thicknesses.
Would you like more information?